TRIXIE'S LIVE MUSIC CALENDAR!
Jan. 23rd – Jan. 29th, 2023!
"HER EYES" by Ray and Paul Holmberg, from their 2021 self-titled album.
On February 4th they will be headlining at The Chapel and we're all going!!
😮🤩😮
DETAILS
————————————————————————————————————- 
Your Bay Area Show Listing! 
Hi Guys! Thanks for coming out to the excellent shows at Eli's and Thee Parkside last week. Here's what's coming up next…

This Friday, Jan. 27th, is our good friend Will's birthday party at Golden Bull Oakland. There will be live music from local favorites Van Goat, Loser Soup (Will's band!), Treasures, and Rusha. Come give the birthday boy a kiss!
💋

AND…get ready for the most epic show that The Chapel has ever seen on Saturday, Feb. 4th! Read on for the details and to purchase tickets in advance.
✨

Much love,
Trixie
💗
————————————–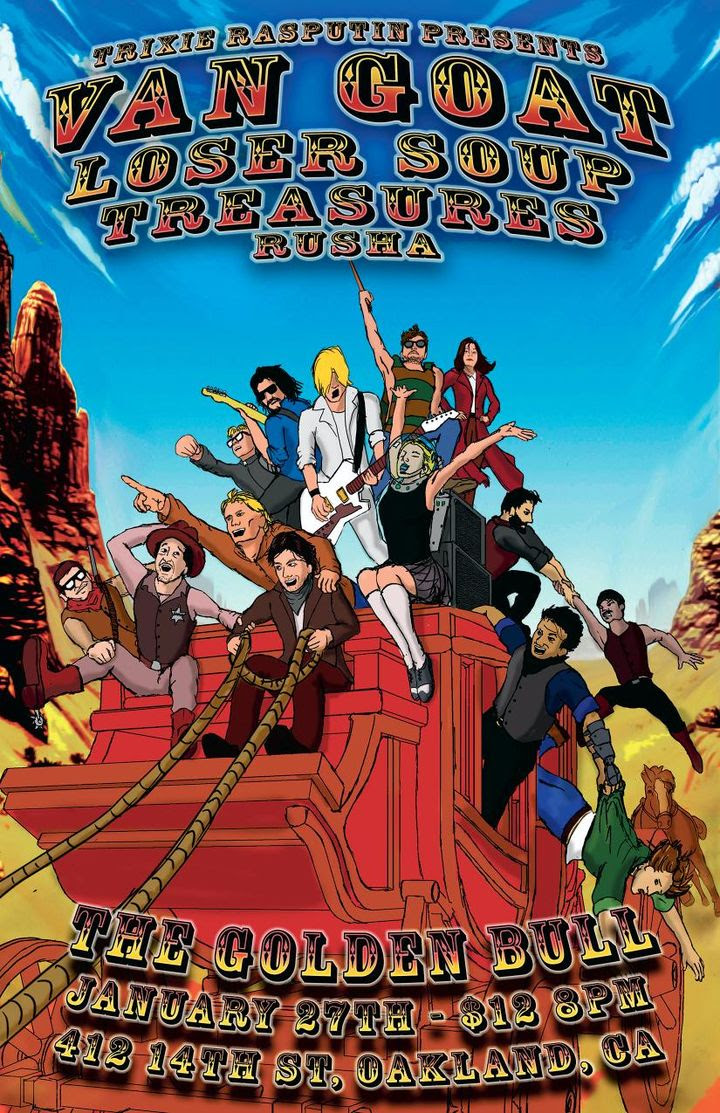 🎉 Friday Night!! 🎉 
Will's Big Ass Birthday Party!
 Van Goat + Loser Soup + Treasures
with a DJ set to close out the night by RUSHA!

Friday, January 27th, 8pm
 👉🏼 TICKETS👈🏼 
👉🏼 RSVP👈🏼
————————————————————————————————————-
🎉 Next Saturday Night!! 🎉 
A Lucky Recording Showcase of Amazing Music!
 Ray and Paul Holmberg + Treasures + Ren Geisick + Spirit Hustler

Saturday, February 4th, 7:30pm
 👉🏼 TICKETS👈🏼 
👉🏼 RSVP 👈🏼
————————————————————————————————————-
Now onto other cheap and free stuff…
OPEN MICS
EVERY MONDAY NIGHT AT HOTEL UTAH:
This San Francisco institution has given many a great artist their start, including Trixie herself. Sign ups start at 7pm every Monday, and there is usually a featured act at 10pm. Hosted by the amazing Brendan Getzell!

EVERY TUESDAY NIGHT AT THE STARRY PLOUGH:
This Irish bar in Berkeley is a really fun place with food, drinks, and a vibrant open mic scene. Hosts Sara Jayne and Johnny Mitro start signups at 7:30pm.
ON THE AIRWAVES
Mutiny Radio, The JW Megaweg Show 
4-6pm, every Friday evening! Always the best tunes and vibes from our good friend JW Blunt, also known as Mr. San Francisco. He is also the producer of the Tiki Desk Concert series. 
This week's guest: Trixie Rasputin! 
BFF.FM, Ugliest Son Radio 
8pm, every other Sunday – next show is Sunday 1/29! Hosted by Dan Poole of Wicked Pricks. Peep the instagram @ugliestsonradio for a full list of this week's *ugliest* shows! 🤘 

Live on 1077 FM "The Bone"!!
Soundwaves FM with Dennis Willis
11:00pm-midnight, every Saturday! Hosted by Dennis Willis, our man behind the scenes and on the screen at Soundwaves TV, and sidekick to the amazing CHASTA! You can submit your tracks to him via the link above! 
————————————————————————————————————-
FEATURED SONG OF THE WEEK!

"OH RUBY"

BY: REN GEISICK

1-14-22″Oh Ruby" by REN GEISICK, is the first track off the 2022 album that is as an ode to Ren's grandmother, Ruby. Ren's country western twang and lyrical stylings would be at home in a Nashville bar room, but her jazz background is evident in the sophistication of her songwriting. This song lends itself perfectly to Ren's crystal clear vocals, and truly showcases her range as a singer and lyricist. It's a sweet song, and her repertoire includes a lot of amazing original music! 
Grab tickets to see her live at The Chapel on February 4th with Ray and Paul Holmberg! 
————————————————————————————————————-
FEATURED ALBUM OF THE WEEK!

"GOLD RUSH CITY"

BY: TREASURES

8-11-22″Gold Rush City" by TREASURES = favorite!This album is glossy and slick like wet skin glistening in the sun! If you have ever seen Treasures play live, you know the band is a glamorous powerhouse of rock 'n roll energy. Check out their instagram for a lot of tasty teasers of what the band is working on next. And go listen to this album to get ready for their upcoming shows!Fav track this week: Forgotten   
Stream Gold Rush City on Spotify.
Grab tickets for their big show at The Chapel on February 4th with Ray and Paul Holmberg! 
————————————————————————————————————-
Oh look!
It's Van Goat!! Local jazz punk favorites!

Ben, Lindsay, Aidan, Derek, and Taylor


Did you know they are playing on
Friday 1/27 at Golden Bull Oakland!? Tré cool.COME TO THE PARTY!
————————————————————————————————————-
FREE HAPPY HOUR AT BLUE LIGHT!
1/27 FRIDAY AT BLUE LIGHT FEATURING:
AUSTIN WAZ (Lead singer of Analog Dog!)
Outdoor Happy Hour in the Marina with free live music! 
6:00-8:00pm
————————————————————————————————————-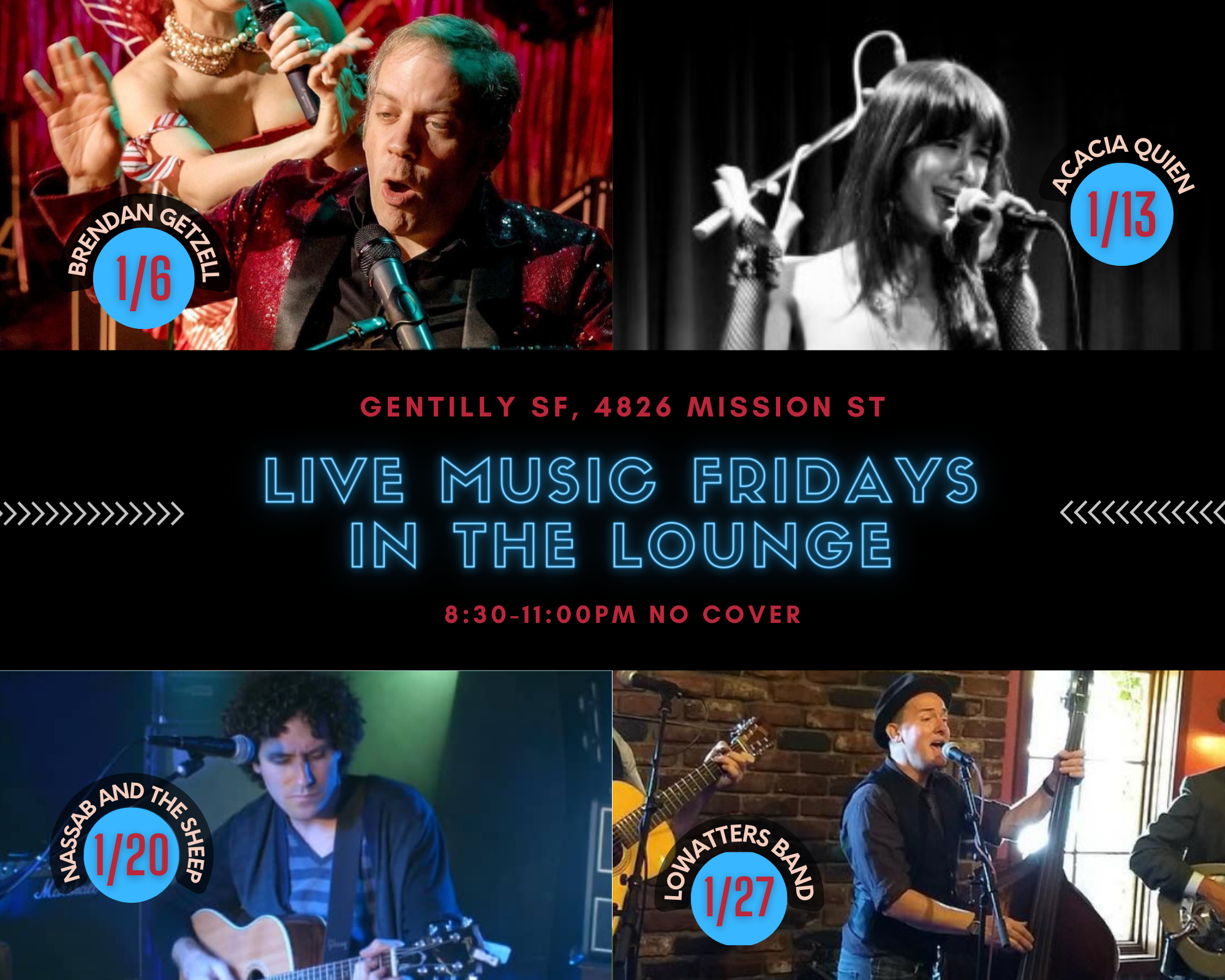 FREE LIVE MUSIC FRIDAYS AT
GENTILLY
An amazing night with Lowatters, a band that plays roots, twang, and classic Americana with their own  unique twist!

LOWATTERS BAND!

(This is always a *FREE* event!)

NOLA style food, drinks, and entertainment,
8:30-11:00pm EVERY FRIDAY
   Live Music Fridays are the BEST! 🤩 
————————————————————————————————————-
VERY IMPORTANT! 👇 
GRAB YOUR TICKETS NOW FOR THE CHAPEL SHOW:

Ticket Link & Show Details
👇 👇 👇 
⭐️⭐️⭐️⭐️⭐️⭐️⭐️⭐️⭐️⭐️⭐️⭐️⭐️⭐️⭐️
Please support the venues by purchasing your tickets in advance. All tickets links are available below.
👇👇👇👇👇👇GET READY, BABIES!
BE THERE OR BE CIRCLE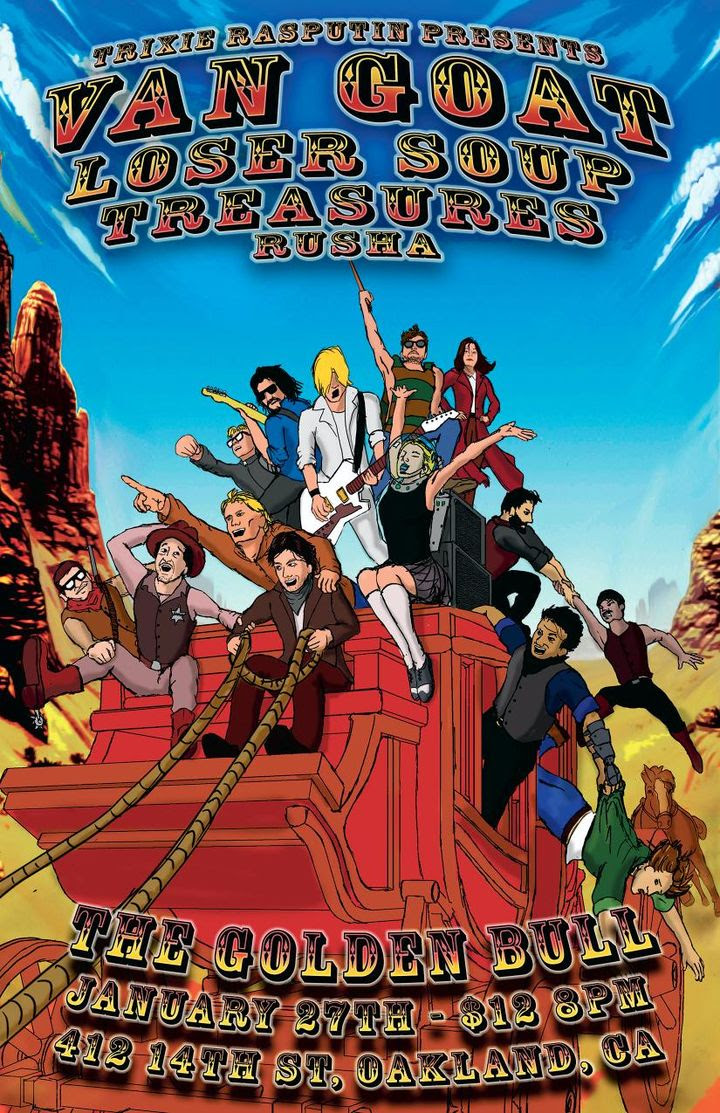 ⭕️ 
__________
1/27 Will's Big Ass Bday Party! Featuring Van Goat, Loser Soup, Treasures, and Rusha at Golden Bull Oakland!
👉🏼 INFO👈🏼
__________
2/4 Lucky Recording Presents: Spirit Hustler, Ren Geisick, Treasures, and Ray and Paul Holmberg (featuring Trixie Rasputin as Emcee) at The Chapel!
👉🏼 INFO👈🏼
__________
3/25 The Adam Spry Album Release Party with Tom Conneely & Birds of Paradise, Catch Prichard, and Adam Spry at The Balboa Theater!
👉🏼 INFO👈🏼
__________
4/21 MKC (Fresno), Scary Scare, and 1335 at The Golden Bull Oakland!
👉🏼 INFO 👈🏼
__________
OTHER SHOWS OF INTEREST:
SATURDAY: 1/28 No Small Children, Hyperdrive Kittens, and the New Nothings at Winters Tavern
🐈 


FRIDAY: 2/3 Skating Polly, Tess Stevens & the Details, and The Wash at Bottom of the Hill!
🛹
TUESDAY: 2/14 The Cutest Valentine's Day with acoustic performances from Stephan Kaplan, Kim Capria, Phil Thorneycroft, and Trixie Rasputin at Firehouse Coffee and Tea in Sausalito!
❤️
FRIDAY: 2/17 Nero Caez, Mingo of Eseph, and Marc Bodé ART SHOW featuring performances from Philthy 415, Solus the Happy Human and Cyro!
At 1415 Indiana St. Door #103, starts at 6pm
🎨 
SATURDAY: 2/18 Country Risqué, Scary Scare, The Apollo Era and PVJR playing The Happy Hour show at The Knockout!
😈
MONDAY: 2/20- SUNDAY 2/26 Noise Pop Festival 2023!
💥
WEDNESDAY: 2/22 Trixie Rasputin Presents a very special Noise Pop Happy Hour at Bender's featuring Enon, Cardboard People, and Rose Haze!
🤖
THURSDAY: 3/9 Trixie Rasputin playing live at The Beacon Grand in downtown SF!
🎹
SATURDAY: 3/11 Dear Banshee Album Release show at Brick & Mortar!
🥳
THURSDAY: 4/13 The Hot Takes, Strange Cities and Treasures at Bottom of the Hill!
🥵
_________
Thank you for keeping the music alive!